I was up at about 5 this morning. My punishment for allowing the cats to sleep with me. Bad Bobby walks on me and paws me until I give in. Despite being up and out nice and early, the boot sale was rubbish. This is the second week in a row!
I did find these cute wooden scissors at the Friday flea though. They are massive and about as useful as a chocolate teapot but I like them.
The only thing I don't like is the carving.
I don't want tribal scissors! Tribal scissors make no sense. Huge wooden scissore however make perfect sense! So I've tried a bit of wood filler to see if I can lose that look.
It's a work in progress...
I have however finished waxing the vintage dressing table that I painted in milk paint. This is a lovely shape and with the removal of the mirror it would make a gorgeous desk too.
Here's the before again...
The wood was actually in poor condition and there were some holes in the veneer.
And the after...
I really love this chippy look. It's the Kurt Cobain of furniture. You can only get this grungey look with milk paint. It took lots and lots of coats to get an opaque coverage as dark wood and pale milk paint is a tricky combination. But I love the contrast.
I'm going to be selling this one as it's pretty large and won't fit in our home. But not until I have refurbished a matching dressing table stool to go with it. I've been lucky enough to find one that's a perfect match with those Queen Anne legs. If you're interested, get in touch and I can upholster the stool to match your decor. My husband is just thrilled at the thought of hauling it outside again for another photo shoot when the stool is done!
I'm sure it gives the neighbours something to talk about, that strange lady from number 9 who's always dragging her furniture outside to photograph it. I even tried posing with the furniture this time! But those photos didn't work. The dog walkers put me off.
Thanks for your kind comments and support after my last post. I do feel much better now, it's not such a shock and I'm going to try and be stronger for my little girl. No more tears. I'm too soft. She was sobbing in the classroom the other day as someone told tales on her and it nearly set me off! The culprits said sorry and she happily ran out to play a minute later. I need to toughen up.
She made me laugh as we were waiting for a a prescription at the chemists and she said, ''Mummy, If it's okay, I would like to keep these legs.''
Bless! I'm sure we can arrange that.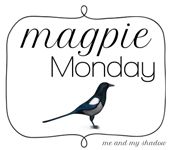 Linking to
Funky Junks Party Junk
and these other blogs